A Future "After Childhood": Engaging the Anthropocene in Early Childhood Education
Downloads
Download data is not yet available.
References
Haraway, D. (2008). When species meet. University of Minnesota Press.
Juelskjær, M., & Schwennesen, N (2012). Intra-active entanglements: An interview with Karen Barad. Kvinder, Køn & Forskning, 1–2. https://doi.org/10.7146/kkf.v0i1-2.28068
Kraftl, P. (2020). After childhood: Re-thinking environment, materiality, and media in children's lives. Routledge.
Kraftl, P., Taylor, A., & Pacini-Ketchabaw. V. (2020). Introduction to symposium: Childhood studies in the Anthropocene. Discourse: Studies in the Cultural Politics of Education, 41(3), 333–339. https://doi.org/10.1080/01596306.2020.1779448
MacLure, M. (2015). The "new materialisms": A thorn in the flesh of critical qualitative inquiry? In G. Cannella, M. S. Perez, & P. Pasque (Eds.), Critical qualitative inquiry: Foundations and futures (pp. 15–19). Left Coast Press
Nxumalo, F., & Vintimilla, C. D. (2020). Exploration of the tensions and potentials of de-centering the human in early childhood education research. Equity & Excellence in Education, 53(3), 271–275. https://doi.org/10.1080/10665684.2020.1783391
Ødegaard, E. E. (2021). Reimagining "collaborative exploration": A signature pedagogy for sustainability in early childhood education and care. Sustainability, 13, 5139. https://doi.org/10.3390/su13095139
Pacini-Ketchabaw, V., & & Kummen, K. (2016). Shifting temporal frames in children's common worlds in the Anthropocene. Contemporary Issues in Early Childhood, 17(4), 431–441. https://doi.org/10.1177/1463949116677930
Peck, J., & Tickell, A. (2002). Neoliberalizing space. Antipode, 34(3), 380–404. https://doi.org/10.1111/1467-8330.00247
Taylor, A. (2017). Beyond stewardship: Common world pedagogies for the Anthropocene. Environmental Education Research, 23(10), 1448–1461. https://doi.org/10.1080/13504622.2017.1325452
Taylor, A., & Pacini-Ketchabaw, V. (2015). Learning with children, ants, and worms in the Anthropocene: Towards a common world pedagogy of multispecies vulnerability. Pedagogy, Culture & Society, 23(4), 507–529. https://doi.org/10.1080/14681366.2015.1039050
Vintimilla, C. D., & Pacini-Ketchabaw, V. (2020). Weaving pedagogy in early childhood education: On openings and their foreclosures. European Early Childhood Education Research Journal, 28(5), 5628–5641. https://doi.org/10.1080/1350293X.2020.1817235
Vintimilla. C. D., Pacini-Ketchabaw, V., & Land, N. (2021). Manifesting living knowledges: A pedagogists working manifesto. Journal of Curriculum and Pedagogy. https://doi.org/10.1080/15505170.2021.1955051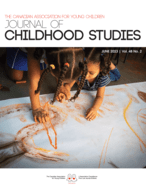 How to Cite
Russumanno, P. (2023). A Future "After Childhood": Engaging the Anthropocene in Early Childhood Education. Journal of Childhood Studies, 25-31. https://doi.org/10.18357/jcs482202321253
Section
Reviews of Books & Resources
Copyright (c) 2023 Paolo Russumanno
This work is licensed under a Creative Commons Attribution-NonCommercial 4.0 International License.
Authors contributing to the Journal of Childhood Studies agree to release their articles under the Creative Commons Attribution-Noncommercial 4.0 International license. This licence allows anyone to share their work (copy, distribute, transmit) and to adapt it for non-commercial purposes provided that appropriate attribution is given, and that in the event of reuse or distribution, the terms of this license are made clear.
Authors retain copyright of their work and grant the journal right of first publication.
Authors are able to enter into separate, additional contractual arrangements for the non-exclusive distribution of the journal's published version of the work (e.g., post it to an institutional repository or publish it in a book), with an acknowledgement of its initial publication in this journal.