Temporary Families? the Parent and Grandparent Sponsorship Program and the Neoliberal Regime of Immigration Governance in Canada
Xiaobei Chen

Carleton University

Sherry Xiaohan Thorpe

Carleton University
Abstract
The Canadian government has introduced a series of policy changes to various immigration programs since 2008. This paper focuses on the revamping of the parent and grandparent (PGP) sponsorship program and the introduction of new measures such as the Super Visa. Using Foucauldian analytical tools and drawing on Bacchi's (2009, 2012) method of studying policy as problematizations, we first historicize the problematization of the family in immigration policy. Second, we refute the government's representation of immigration under the PGP program problems as essentially a transparent "problem of math," that of too many applicants overwhelming the system. Finally, we analyze neoliberal technologies of immigration governance and their impact on citizenship formation and struggles. Who counts as family, we argue, has been biopolitically determined in Canadian immigration policy. Family members are recognized as such when it suits the needs of the state. The latest changes in family sponsorship policies objectify potential parents and grandparents reunification applicants, seeing them as human liabilities that pose risks to the Canadian population because of their advanced age. The new measures deploy a neoliberal regime of governance that discriminatorily responsibilizes the family, marketizes regulation, and maximizes the state's control of the border and of the population. 
Downloads
Download data is not yet available.
References
Abu-Laban, Y. and C. Gabriel. 2002. Selling Diversity: Immigration, Multiculturalism, Employment Equity, and Globalization. Peterborough: Broadview Press.
Ackers, L. 2004. "Citizenship, Migration and the Valuation of Care in the European Union." Journal of Ethnic and Migration Studies. 30 (2): 373-396.
Alboim, Naomi, and Karen Cohl. 2012. Shaping the Future: Canada's Rapidly Changing Immigration Policies. Toronto: Maytree.
Attaran, A. v. Attoney General of Canada, Federal Court of Appeal Canada.
http://decisions.fca-caf.gc.ca/fca-caf/decisions/en/item/107769/index.do. Accessed March 4, 2015.
Bacchi, Carol. 2009. Analyzing Policy: What's the Problem Represented to Be? Frenchs Forest, NSW: Pearson Education.
———. 2012. "Why Study Problematizations? Making Politics Visible." Open
Journal of Political Science. 2 (1): 1-8.
Boyd, Monica. 2014. "Recruiting High Skill Labour in North America: Policies, Outcomes and Futures." International Migration. 52 (3): 40-54.
Boyd, Monica and Naomi Alboim. 2012. "Managing International Migration: The Canadian Case." In Dan Rodríguez-García ed. Managing Immigration and
Diversity in Canada: A Transatlantic Dialogue in the New Age of Migration. Montreal and Kingston: McGill-Queen's University Press, 119-146.
Canadian Council for Refugees. 2012. "CCR Backgrounder: CIC Consultations on the Parent and Grandparent Program." http://ccrweb.ca. Accessed April 22, 2013.
Chen, Xiaobei. 2008. "The Child-Citizen." In Engin F. Isin et al. eds. Recasting the Social in Citizenship, Toronto; Buffalo; London: University of Toronto Press, 162-186.
Collacott, Martin. 2002. "Canada's Immigration Policy: The Need for Major Reform." Vancouver: Fraser Institute.
Citizenship and Immigration Canada (CIC). 2004. "Formal letter sent to people who submitted the application to Sponsor a Member of the Family Class." Ottawa: CIC.
———. 2011a, November 4. "Speaking Notes for The Hon. Jason Kenney, P.C., M.P. Minister of Citizenship, Immigration and Multiculturalism" at a news conference to announce measures to cut the backlog and wait times for family reunification. Mississauga.
———. 2011b, November 4. "News Release: Government of Canada to Cut Backlog and Wait Times for Family Reunification, Phase I of Action Plan for Faster Family Reunification."
———. 2011c, December 19. "News Release: First Parent and Grandparent Super Visa Issued Two Weeks after Launch."
———. 2012, March 25. "Transforming the Immigration System: Then and Now."
———. 2013a, March 6. "News Release: Super Visa is Super Popular, Over 15,000 Parent and Grandparent Super Visas Issued."
———. 2013b, May 17. "Backgrounder — Action Plan for Faster Family Reunification: Phase II."
———. 2014. "Processing Times: Family Sponsorship."
———. 2015. "Citizenship and Immigration Canada Facts and Figures 2013."
ComeFromChina.com. 2005, February 26. http://bbs.comefromchina.com/forum5/. Accessed February 26, 2015.
Das Gupta, Tania. 2006. "Racism/Anti-racism, Precarious Employment, and Unions." In Leah F. Vosko ed. Precarious Employment: Understanding Labour
Market Insecurity in Canada. Montreal: McGill-Queen University Press, 318-334.
Department of Manpower and Immigration Canada. 1966. "Canadian Immigration Policy: White Paper on Immigration."
———. 1974. "Immigration Program: Green Paper on Immigration" Vol. 2. Ottawa: Information Canada.
Dean, Mitchell. 2014. "Rethinking Neoliberalism." Journal of Sociology. 50 (2):
-163.
DeShaw, Rell. 2006. "The History of Family Reunification in Canada and Current Policy." Canadian Issues. 9.
Daniel, Dominique. 2005. "The Debate on Family Reunification and Canada's Immigration Act of 1976." American Review of Canadian Studies. 35 (4): 683-703.
Foucault, Michel. 2003. Society Must be Defended: Lectures at the Collège de France, 1975-76. David Macey, trans. New York: Picador.
Fudge, Judy, and Fiona MacPhail. 2009. "The Temporary Foreign Worker Program in Canada: Low-Skilled Workers as an Extreme Form of Flexible Labor." Comparative Labor Law & Policy Journal. 31 (1): 5-45.
Government of Canada. 2001. Immigration and Refugee Protection Act.
http://laws-lois.justice.gc.ca/eng/acts/I-2.5/20120815/P1TT3xt3.html. Accessed February 15, 2015.
Hawkins, Freda. 1972. Canada and Immigration: Public Policy and Public Concerns. Montreal and London: McGill-Queen's University Press.
House of Commons Standing Committee on Labour, Manpower and Immigration. Minutes of Proceedings and Evidence. June 16, 1977. 37:19.
Honohan, Iseult. 2009. "Reconsidering the Claim to Family Reunification in
Migration." Political Studies. 57: 768-787.
House of Commons Standing Committee on Immigration and Citizenship. 2012. "Cutting the Queue: Reducing Canada's Immigration Backlogs and Wait Times." Ottawa: Public Works and Government Services Canada.
Kenney, Jason. 2011. Minister of Citizenship, Immigration and multiculturalism. House of Commons Standing Committee on Citizenship and Immigration. House of Commons Debates. October 20.
Kent, Tom. 2004. "In the National Interest: A Social Policy Agenda for a New
Century, Restore Cooperative Federalism, Modernize Medicare, Put Children First." Policy Options. (Aug.): 24-9.
Keung, Nicholas. 2012, March 14. "Super Visa applications for visitors to Canada are often rejected." Toronto Star. www.thestar.com. Accessed February 9, 2015.
———. 2015, February 6. "Immigration Program for Parents 'Discriminatory,' Federal Court of Appeal Rules." Toronto Star. www.thestar.com. Accessed February 9, 2015.
Leung, H.H. and MacDonald, L. 2001. Chinese Immigrant Women Who Care for Ageing Parents. Toronto: CERIS and Chinese Canadian National Council.
Ley, D., and D. Hiebert. 2001. "Immigration Policy as Population Policy." Canadian Geographer – Geographe Canadien 45 (1): 120-125.
Li, P. 2003. Destination Canada: Immigration Debates and Issues. Toronto: Oxford University Press.
———. 2004. "The Place of Immigrants: Politics of Difference in Territorial and Social Space." Canadian Diversity. 3 (2): 23-8.
McLaren, A. T. 2006. "Parental Sponsorship - Whose Problematic? A Consideration of South Asian Women's Immigration Experiences in Vancouver." In Research on Immigration and Integration in the Metropolis. Vancouver Centre of Excellence. Working Paper Series, 06-08.
McLaren, A. T. and T. L. Black. 2005. "Family Class and Immigration in Canada: Implications for Sponsored Elderly Women." Research on Immigration and Integration in the Metropolis. Vancouver Centre of Excellence. Working Paper Series, 05-26.
Neborak, Jacklyn. 2014. "Family Reunification?: A Critical Analysis of Citizenship and Immigration Canada's 2013 Reforms to the Family Class." Ryerson Centre for Immigration and Settlement Working Paper No.2013/8.
Ontario Council of Agencies Serving Immigrants. 2012. Sponsoring Parents and Grandparents: Is Canada failing to reunify families?
Panusa, Gianpaolo. 2012, December. "Update on Parent and Grandparent Sponsorship." http://immigrationcanada.pro/immigrate/update-on-parent-and-
grandparent-sponsorship/. Accessed April 24, 2013.
Picot, Garnett, and Arthur Sweetman. 2012. Making it in Canada: Immigration
Outcomes and Policies. Montreal: Institute for Research on Public Policy, 2012.
Rajkumar, Deepa, Laurel Berkowitz, Leah F. Vosko, Valerie Preston and Robert Latham. 2012. "At the Temporary-Permanent Divide: How Canada Produces Temporariness and Makes Citizens Through Its Security, Work, and Settlement Policies." Citizenship Studies. 16 (3-4): 483-510.
St. John-Jones, L. W. 1973. "Canadian Immigration: Policy and Trends in the 1960s" International Migration. 11 (4): 141-170.
Teelucksingh, Cheryl and Grace-Edward Galabuzi. 2005. "Working Precariously: The Impact of Race and Immigrant Status on Employment Opportunities and Outcomes in Canada." Policy Matters. 22, 1-11.
VanderPlaat, Madine, Howard Ramos and Yoko Yoshida. 2009. "A Preliminary Investigation of the Contributions of Sponsored Parents and Grandparents in
Canada." Atlantic Metropolis Centre Working Paper Series.
Walters, William. 2002. "Mapping Schengenland: Denaturalizing the Border" Environment and Planning D: Society and Space. 20: 561-580.
Zhou, Yanqiu Rachel. 2012. "Space, Time, and Self: Rethinking Aging in the Contexts of Immigration and Transnationalism." Journal of Aging Studies. 26: 232-242.
Zechner, Minna. 2008. "Care of Older Persons in Transnational Settings." Journal of Aging Studies. 22: 32-44.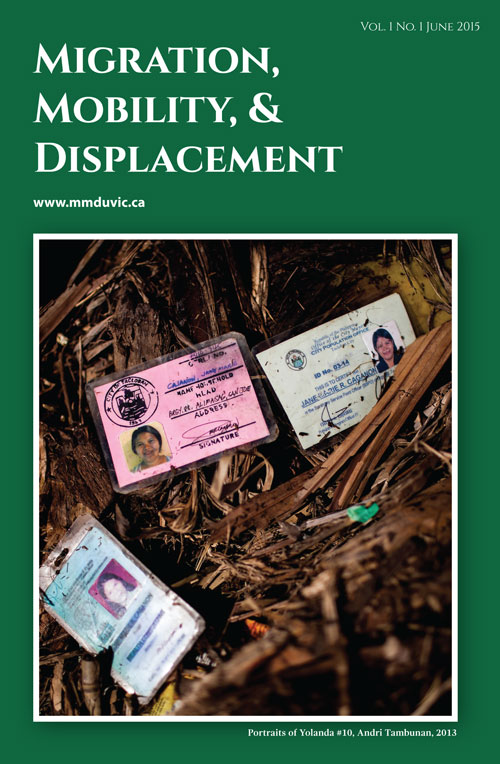 Copyright (c) 2015 Migration, Mobility, & Displacement
This work is licensed under a Creative Commons Attribution-NonCommercial 4.0 International License.
This work is licensed under a 
Creative Commons Attribution-NonCommercial 4.0 International License
.