Tongan Women and Migratory Circuits of Wealth and Value(s)
Ping-Ann Addo

University of Massachusetts Boston
Abstract
Wealth transfers are key to the "how" and "why" of contemporary global population migration. For example, remittances are much-analyzed and fiercely-debated transfers of wealth from migrant populations to their home countries. Yet wealth can be transferred in the opposite direction – from homeland to hostland – and in various different forms. Using an ethnographic approach to understanding the impact of migrant's (micro) decisions on wider (macro) global practices, this paper records, compares and contextualizes the global movement of things carried, left behind, pined for, and (re-)created by transmigrants. It seeks to nuance our understandings of the "who" of contemporary migration by tracing the role and cross-cutting paths of traditional wealth from the Kingdom of Tonga between groups of Tongan migrants who live in, and move between New Zealand, Australia, the United States and Hawai'i. The case study illuminates Tongan women's choices about carrying and creating objects of value that reify homeland gender and labor practices, while also affording them a role in impacting global wealth transfers that both entwine and eschew cash remittances.
Downloads
Download data is not yet available.
References
Addo, Ping-Ann. 2013. Creating a Nation with Cloth: Women, Wealth, and Tradition in the Tongan Diaspora. London: Berghahn Books.
———. and Niko Besnier. 2008. "When Gifts Become Commodities: Pawnshops in Tonga and the Tongan Diaspora." Journal of the Royal Anthropological Institute. 14 (1): 39–59.
Appadurai, Arjun. 2000. Grassroots Globalization and the Research Imagination. Public Culture. 12 (1): 1-19.
Brown, Richard P.C., John Connell and Eliana V. Jimenez-Soto. 2014. "Migrants' Remittances, Poverty and Social Protection in the South Pacific: Fiji and Tonga." Population, Space and Place. 20 (5): 434-454.
Cave, Jenny and Koloto, 'Ana Hau'alofa'ia. 2015. "Short-Term Visits and Tongan Livelihoods: Enterprise and Transnational Exchange." Population, Space and Place. doi:10.1002/psp.1920.
Connell, John. 2015a. "The Pacific Diaspora." Migration and Development: Perspectives from Small States. Commonwealth Secretariat, London.
———. 2015b. "Samoa and Tonga: Migration and Remittances in the Twenty-first Century." Migration and Development: Perspectives from Small States. Commonwealth Secretariat, London.
Esau, Raelyn Lolohea. 2007. "Tongan Immigrants in Japan." Asian and Pacific Migration Journal. 16 (2): 289-301.
Gardner, Katy and Ralph and Grillo. 2002."Transnational Households and Ritual: An Overview." Global Networks. 2 (3): 179-190.
Godelier, Maurice. 1999. The Enigma of the Gift. trans. Nora Scott. Chicago, IL: University of Chicago Press.
Gibson, John, and Karen Nero. 2008. "Why Don't Pacific Island Countries'
Economies Grow Faster?" In Alistair Bisley ed. Pacific Interactions: Pasifika in New Zealand; New Zealand in Pasifika. Wellington, New Zealand: Institute of Policy Studies, Victoria University of Wellington., 191-244.
Herda, Phyllis. 1999. "The Changing Texture of Textiles in Tonga." Journal of the Polynesian Society. 108 (2): 149-167.
Horan, Jane. 2013. "Tivaivai and the Managing of 'Community Funding' in
Auckland, New Zealand." Research in Economic Anthropology. 33: 83-105.
———. 2002. "Indigenous Wealth and Development: Micro-Credit Schemes in Tonga." Asia-Pacific Viewpoint. 43 (2): 205-221.
International Monetary Fund (IMF). 2008. "International Transactions and Remittances: A Guide for Controllers and Users." www.imf.org/external/np/sta/bop/2008/rcg/pdf/guide.pdf . Accessed February 26, 2015.
James, Kerry. 1997. "Reading the Leaves: The Role of Tongan Women's Traditional Wealth and Other 'Contraflows' in the Processes of Modern Migration and Remittance." Pacific Studies. 20 (1): 1-27.
Lee, Helen. 2009a. "Pacific Migration and Transnationalism: Historical Perspectives." In Lee and Francis eds. Migration and Transnationalism. Canberra: Australia National University E-Press, 7-41.
———. 2009b. "The Ambivalence of Return: Second-generation Tongan Returnees." In Conway and Potter eds. Return Migration of the Next Generations, Aldershot: Ashgate, 41-58.
Levitt, Peggy. 2001. The Transnational Villagers. Berkeley: University of California Press.
Mauss, Marcel. 1925. The Gift: Forms and Functions of Exchange in Archaic
Societies. trans. I. Cunnison. New York: W.W. Norton.
Olwig, Karen Fog. 2007. Caribbean Journeys: An Ethnography of Migration and Home in Three Family Networks. Durham, NC: Duke University Press.
Small, Cathy. 1997. Voyages: From Tongan Villages to American Suburbs. Ithaca, NY: Cornell University Press.
Vete, Mele Fuka. 1995. "The Determinants of Remittances among Tongans in Auckland." Asian and Pacific Migration Journal. 4 (1): 55-67.
Weiner, Annette. 1980. "Stability in Banana Leaves: Colonialism, Economics and Trobriand Women." In Eleanor Leacock and Mona Etienne eds. Women and
Colonization: Anthropological Perspectives. New York: J. F. Bergin.
Werbner, Pnina. 1990. The Migration Process: Capital, Gifts and Offerings among British Pakistanis. New York: Berg Press.
Wiltberger, John, 2014 "Beyond Remittances: Contesting El Salvador's Developmentalist Migration Politics." The Journal of Latin American and Caribbean Anthropology. 19(1): 41-62.
World Bank. 2006. "Pacific Islands At Home and Away: Expanding Job Opportunities for Pacific Islanders Through Labor Mobility." Report of the Poverty and Economic Management Sector Unit, East Asia and Pacific Region.
Young Leslie, Heather E. and Ping-Ann Addo. 2007. "Introduction: Pragmatic Creativity and Authentic Innovations in Pacific Cloth." Pacific Arts New Series. 3-5: 12-21.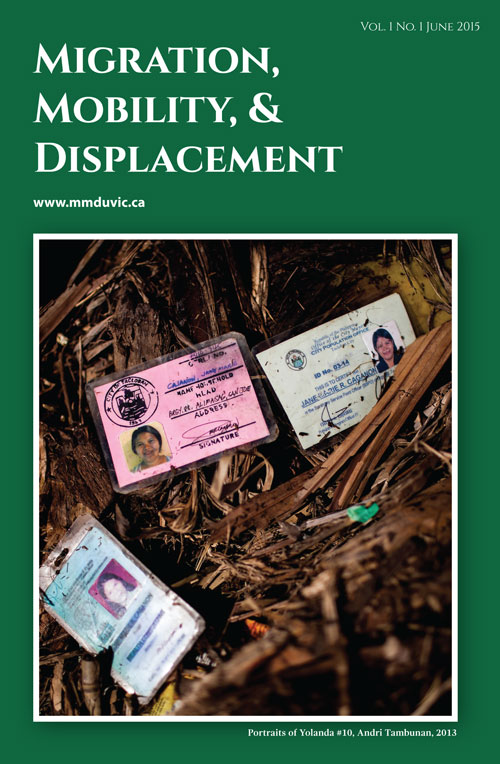 Copyright (c) 2015 Migration, Mobility, & Displacement
This work is licensed under a Creative Commons Attribution-NonCommercial 4.0 International License.
This work is licensed under a 
Creative Commons Attribution-NonCommercial 4.0 International License
.