Introduction: Place, Politics and the Social: Understanding Temporariness in Contemporary Australian Migration
Martina Boese

Shanti Robertson
Downloads
Download data is not yet available.
References
Anderson, Bridget. 2010. "Migration, Immigration Controls and the Fashioning of Precarious Workers." Work, Employment and Society, 24, 300-317.
Birrell, Bob, B. and Healey, Earnest. 2014. "Immigration and Unemployment in 2014." Centre for Population and Urban Research, Monash University.
Boese, Martina. 2017. "Theorising Migrant Work Beyond Economioc Multiculturalism and Methdological Nationalism." In Martina Boese and Vince Marotta. , eds. Critical Reflections on Migration,"Race" and Multiculturalism. Australia in a Global Context. London, New York: Routledge, 88-105.
Boese, Martina, Campbell, Iain., Roberts, Winsome and Tham, Joo-Cheong. 2013. "Temporary Migrant nurses in Australia: Sites and Sources of Precariousness." Employment and Labour Relations Review, 24, 316-339.
Boese, Martina, and Kate Macdonald. 2016. "Restricted Entitlements for Skilled Temporary Migrants: the Limits of Migrant Consent." Journal of Ethnic and Migration Studies.
Carens, Joseph H. 2008. "Live-in Domestics, Seasonal Workers, and Others Hard to Locate on the Map of Democracy." Journal of Political Philosophy 16.
DIBP 2016. "Temporary Entrants and New Zealand Citizens in Australia as at September 2016." www.border.gov.au/ReportsandPublications/Documents/statistics/br0169-30-sept-2016.pdf: Department of Immigration and Border Protection.
Fudge, Judy. 2012. "Precarious Migrant Status and Precarious Employment: The Paradox of International Rights for Migrant Workers" Comparative Labor Law & Policy Journal 34 (1): 95-131.
Goldring, Luin, Carolina Berinstein, and Judith K. Bernhard. 2009. "Institutionalizing Precarious Migratory Status in Canada." Citizenship Studies, 13, 239 - 265.
Goldring, Luin, and Patricia Landolt. 2011. "Caught in the Work-Citizenship Matrix: the Lasting Effects of Precarious Legal Status on Work for Toronto Immigrants." Globalizations, 8, 325-341.
Hugo, Graeme. 2006. "Temporary Migration and the Labour Market in Australia." Australian Geographer, 37, 211 - 231.
Ottonelli, Valeria, and Torresi, Tiziana. 2012. "Inclusivist Egalitarian Liberalism and Temporary Migration: A Dilemma." The Journal of Political Philosophy, 20, 202–224.
Robertson, Shanthi, and Anjena Runganaikaloo. 2014. "Lives in Limbo: Migration Experiences in Australia's Education-Migration Nexus." Ethnicites, 208-226.
Ruhs, Martin. 2013. The Price of Rights: Regulating International Labor Migration. Princeton, Princeton University Press.
Sherrell, Henry, and Peter Mares. 2016. "How Many Migrants Come to Australia each Year?" Inside Story, 4 May 2017.
Spinks, Harriet. 2010. "Australia's Migration Program." apo.org.au/files/Resource/australiasmigrationprogram.pdf. Parliamentary Library.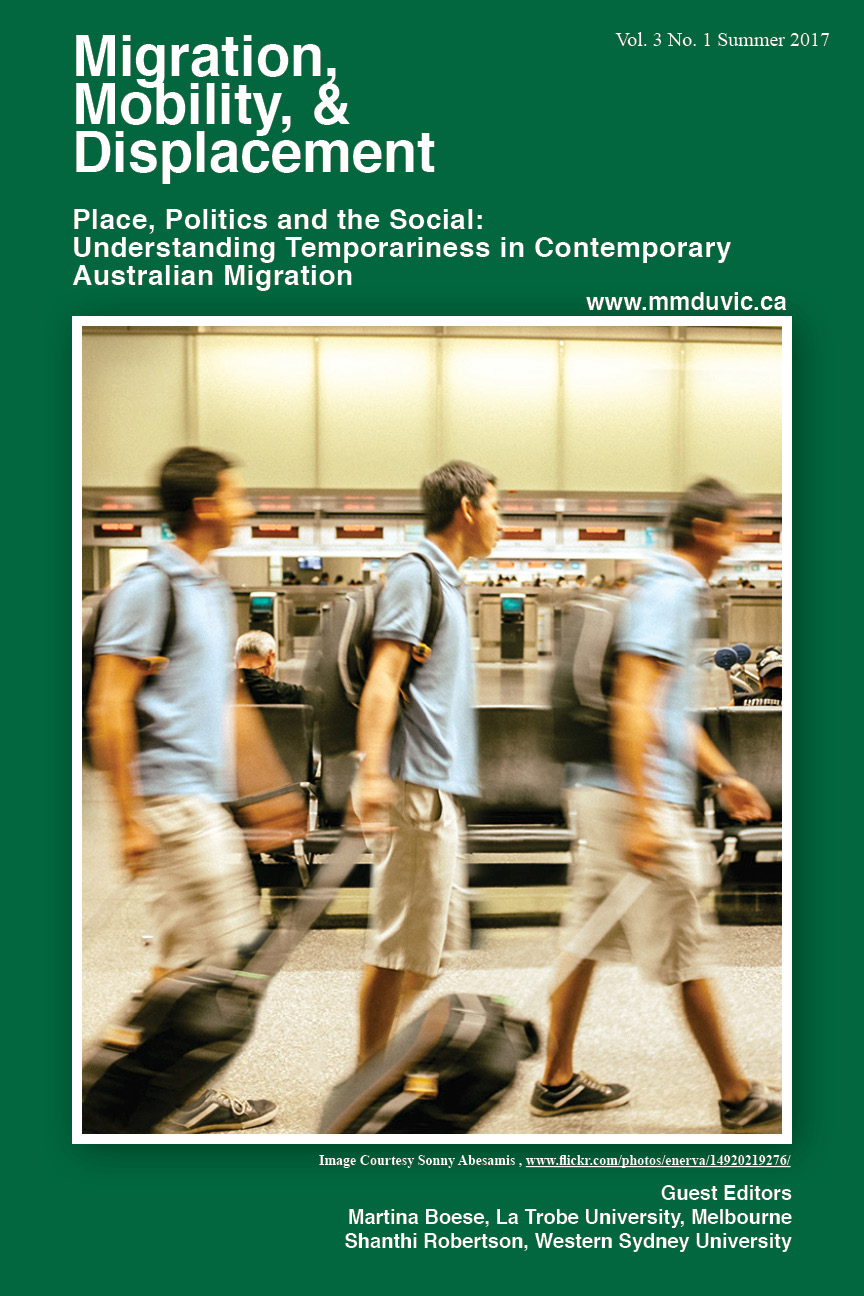 Copyright (c) 2017 MARTINA BOESE, SHANTHI ROBERTSON
This work is licensed under a Creative Commons Attribution-NonCommercial 4.0 International License.
This work is licensed under a 
Creative Commons Attribution-NonCommercial 4.0 International License
.