'Half of Myself Belongs to this Town': Conditional Belongings of Temporary Migrants in Regional Australia
Martina Boese

Melissa Phillips
Abstract
A growing number of temporary visa holders reside in regional Australia, from skilled temporary visa holders to international students at regional university campuses and Working Holiday visa holders. Many of these residents spend prolonged periods of time in regional locations, often alongside groups with other migration and refugee backgrounds, and many hold permanent residency aspirations. This paper contributes to recent scholarship on affective citizenship and place-based belonging through an investigation of the social, cultural and legal dimensions of temporary migrants' sense of belonging in regional communities. Our analysis of qualitative interviews with regional residents on different temporary visas and local employers and service providers shows that many temporary residents in regional locations develop a feeling of place-based belonging grounded in social relations and shared cultural affiliations as well as the efforts of local stakeholders who are keen to retain migrants in the location. Yet the rights restrictions associated with temporary visas tend to diminish such feelings of belonging and further exacerbate feelings of tenuous belonging for those migrants who are lacking place-based social or cultural connections. We conclude that the multidimensional nature of belonging deserves more attention in the current context of policies that are on the one hand promoting the regional settlement of temporary migrants, whilst on the other hand excluding these migrants from most social rights granted to other taxpayers.
Downloads
Download data is not yet available.
References
Antonsich, Marco. 2010. "Searching for Belonging – An Analytical Framework." Geography Compass 4 (6):644-659.
Bauböck, Rainer 2005. "Theorizing Identity Politics, Belonging Modes and Citizenship." In Sicakkan, H. G. and Lithman, Y. eds. Politics of Identity, Modes of Belonging and Citizenship: An Overview of Conceptual and Theoretical Challenges . New York: Edwin Mellen Press, iii–vii.
Boese, Martina. 2015. "The Roles of Employers in the Regional Settlement of Recently Arrived Migrants and Refugees," Journal of Sociology 51(2): 401-416.
Boese, Martina and Kate, MacDonald. 2016. "Restricted Entitlements for Skilled Temporary Migrants: The Limits of Migrant Consent." Journal of Ethnic and Migration Studies dx.doi.org/10.1080/1369183X.2016.1237869.
Collins, Jock, Krivokapic-Skoko, Branka and Devaki Monani. 2016. "New Immigrants Improving Productivity in Australian Agriculture Wagga Wagga," Rural Industries Research and Development Corporation.
Correa-Velez, Ignacio, Sandra M Gifford, and Adrian G Barnett. 2010. "Longing to Belong: Social Inclusion and Wellbeing among Youth with Refugee Backgrounds in the First Three Years in Melbourne, Australia." Social Science & Medicine 71 (8):1399-1408.
de Hoyos, Maria, and Anne Green. 2011. "Recruitment and Retention Issues in Rural Labour Markets." Journal of Rural Studies 27 (2): 171-80.
de Wilde, Mandy and Jan Willem Duyvendak. 2016. "Engineering Community Spirit: the Pre-figurative Politics of Affective Citizenship in Dutch Local Governance." Citizenship Studies 20 (8): 973-993.
Fenster, Tovi. 2005 "The Right to the Gendered city: Different Formations of Belonging in Everyday Life." Journal of Gender Studies 14 (3): 217-231.
Fincher, Ruth. 2003. "Planning for Cities of Diversity, Difference and Encounter." Australian Planner 40(1): 55–58.
Fincher, Ruth, and Kate Shaw. 2011. "Enacting Separate Social Worlds: 'International' and 'Local' Students in Public Space in Central Melbourne." Geoforum 42 (5): 539-49.
Forrest, James. and Kevin Dunn. 2012. "Cultural Diversity, Racialisation and the Experience of Racism in Rural Australia: the South Australian Case." Journal of Rural Studies 30: 1-9.
Fortier, Anne-Marie. 2010. "Proximity by Design? Affective Citizenship and the Management of Unease." Citizenship Studies 14 (1): 17-30.
Fortier, Anne-Marie. 2016. "Afterword: Acts of Affective Citizenship? Possibilities and Limitations." Citizenship Studies 20 (8): 1038-44.
Fozdar, Farida, and Lisa Hartley. 2014. "Civic and Ethno Belonging among Recent Refugees to Australia." Journal of Refugee Studies 27 (1):126-144.
Fair Work Ombudsman (FWO). 2016. "Inquiry into the Wages and Conditions of People Working under the 417 Working Holiday Visa Program," Canberra, Commonwealth of Australia
Galligan, Brian, Boese, Martina and Phillips, Melissa (2014) Becoming Australian. Migration, Settlement, Citizenship, Melbourne: Melbourne University Press.
Hanson, Jayde, and Martin Bell. "Harvest Trails in Australia: Patterns of Seasonal Migration in the Fruit and Vegetable Industry." Journal of Rural Studies 23 (1): 101-17.
Harris, Anita. 2016. "Belonging and the Uses of Difference: Young People in Australian Urban Multiculture." Social Identities 22 (4):359-375.
Hugo, Graeme. 2008. "Immigrant Settlement Outside of Australia's Capital Cities," Population, Space and Place 14: 553–71.
Jordan, K., Branka Krivokapic-Skoko and Jock Collins. 2009. "The Ethnic Landscape of Rural Australia: Non-Anglo-Celtic Immigrant Communities and the Built Environment." Journal of Rural Studies 25(4): 376-385.
Kilpatrick, Sue, Susan Johns, Peter Vitartas, and Martin Homisan. 2011. "Mobile Skilled Workers: Making the Most of an Untapped Rural Community Resource." Journal of Rural Studies 27 (2): 181-90.
Kilpatrick, Sue, Louise Johnson, Tanya J. King, Ruth Jackson, and Santosh Jatrana. 2015. "Making Connections in a Regional City: Social Capital and the Primary Social Contract." Journal of Sociology 51 (2): 207-20.
Lobo, Michele. 2010. "Interethnic Understanding and Belonging in Suburban Melbourne." Urban Policy and Research 28 (1):85 - 99.
Lynn-Ee Ho, Elaine, 2006. "Negotiating Belonging and Perceptions of Citizenship in a Transnational World: Singapore, a Cosmopolis?." Social & Cultural Geography, 7(3): 385-401.
Mares, Peter. 2016. Not Quite Australian: How Temporary Migration Is Changing the Nation. Melbourne: Text Publishing.
McDonald, Paula, Robyn Mayes, and Barbara Pini. 2012.
"Mining Work, Family and Community: A Spatially-Oriented Approach to the Impact of the Ravensthorpe Nickel Mine Closure in Remote Australia." Journal of Industrial Relations 54 (1): 22-40.
McNevin, Anne. 2006. "Political Belonging in a Neoliberal Era: The Struggle of the Sans-Papiers." Citizenship Studies, 10 (2): 135-151.
Moran, Anthony and Mark Mallman. 2015. "Understanding Social Cohesion in Shepparton and Mildura: Final Report," Victorian Multicultural Commission.
O'Brien, Paula, and Melissa Phillips. 2015. "Health Care Justice for Temporary Migrant Workers on 457 Visas in Australia: A Case Study of Internationally Qualified Nurses." Journal of Law and Medicine 22 (3).
Reilly, Alex. 2015. "Low-cost Labour or Cultural Exchange? Reforming the Working Holiday Visa Programme." Economic and Labour Relations Review 26(3): 474-489.
Robertson, Shanthi. and Runganaikaloo, Anjena 2014. "Lives in Limbo : Migration Experiences in Australia 's Education – Migration Nexus."' Ethnicities 14(2): 208-226.
Skrbiš, Zlatko, Loretta Baldassar, and Scott Poynting. 2007. "Introduction: Negotiating Belonging: Migration and Generations." Journal of Intercultural Studies 28 (3):261-269.
Special Broadcasting Service (SBS). 2015. 'Slaving Away.' Australia's Fresh Food Industry, Four Corners Program, SBS.
Yan, Tan, Richardson, Sue, Lester, Laurence, Bai, Tracy and Lulu Sun. 2009. "Evaluation of Australia's Working Holiday Maker (WHM) Program." Canberra, Commonwealth of Australia.
Tham, Joo Cheong, Iain Campbell, and Martina Boese. 2016. "Why Is Labour Protection for Temporary Migrant Workers So Fraught?". In Joanna Howe and Rosemary Owens . eds. Temporary Labour Migration in the Global Era: The Regulatory Changes, London: Hart.
Underhill, Elsa and Michael Rimmer. 2015. "Layered Vulnerability: Temporary Migrants in Australian Horticulture." Journal of Industrial Relations. 58 (5): 608-626.
Velayutham, Selvaraj. 2013. "Precarious Experiences of Indians in Australia on 457 Temporary Work Visas." Employment and Labour Relations Review 24 (3): 340–361.
Wille, Janecke. 2011. "Agency and Belonging: Southern Sudanese former Refugees' Reflections on Life in Australia." The Australasian Review of African Studies, 32 (2): 80.
Williamson, Rebecca. 2016. "Everyday Space, Mobile Subjects and Place-based Belonging in Suburban Sydney." Journal of Ethnic and Migration Studies 42 (14):2328-2344.
Wise, Amanda. 2005. "Hope and Belonging in a Multicultural Suburb." Journal of Intercultural Studies 26 (1):171 - 186.
Wise, Amanda. 2009. "Everyday Multiculturalism: Transversal Crossings and Working Class Cosmopolitans". In Amanda Wise and Selvaraj Velayutham. eds. Everyday Multiculturalism, London: Palgrave, 21–45.
Wise, Amanda, and Selvaraj Velayutham. 2014. "Conviviality in Everyday Multiculturalism: Some Brief Comparisons between Singapore and Sydney." European Journal of Cultural Studies 17 (4): 406-30.
Wise, Amanda and Selvaraj Velayutham. eds. 2009. Everyday Multiculturalism, London: Palgrave.
Yuval-Davis, Nira. 2006. "Belonging and the Politics of Belonging." Patterns of Prejudice 40 (3): 197–214.
Yuval-Davis, Nira, Floya Anthias, and Eleonore Kofman. 2005. "Secure Borders and Safe Haven and the Gendered Politics of Belonging: Beyond Social Cohesion." Ethnic and Racial Studies 28 (3):513-535.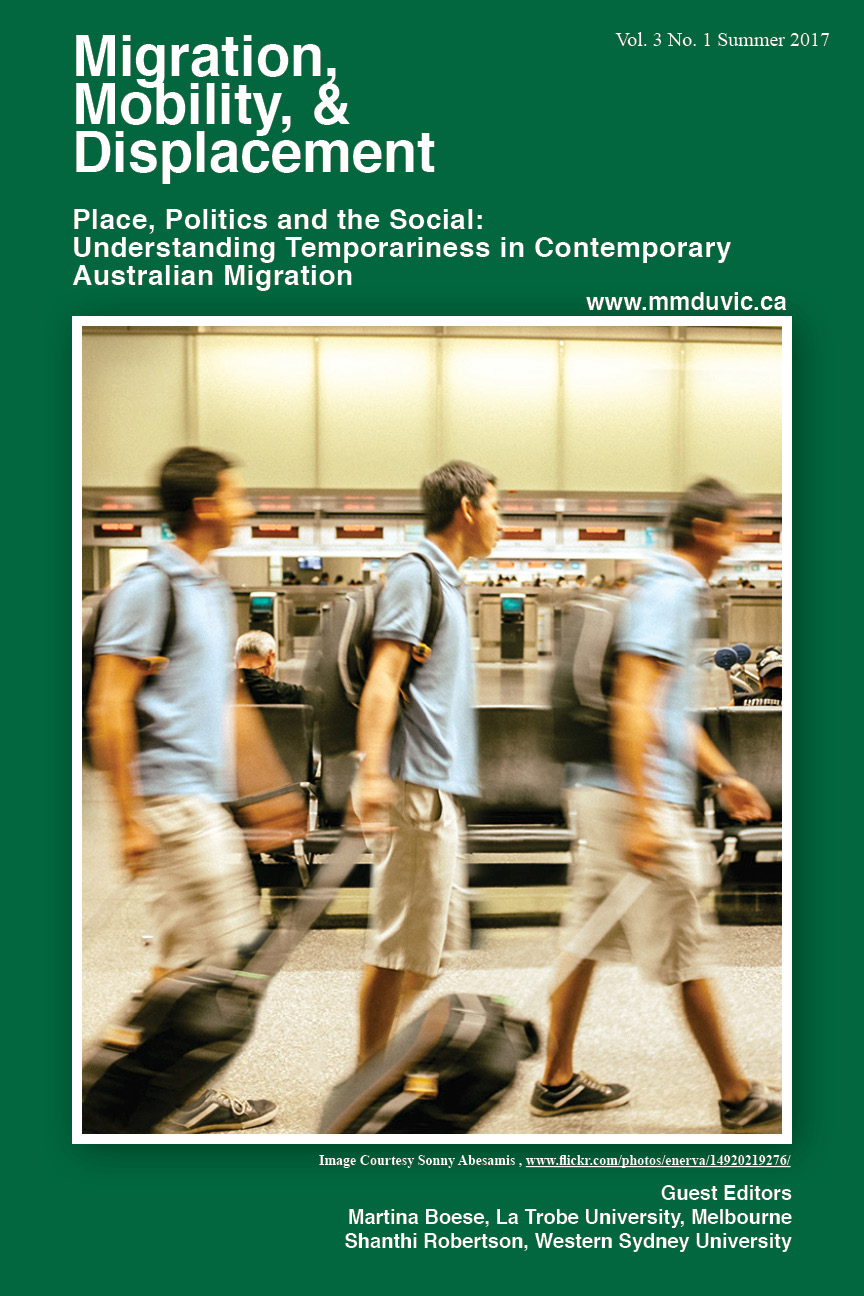 Copyright (c) 2017 Martina Boese
This work is licensed under a Creative Commons Attribution-NonCommercial 4.0 International License.
This work is licensed under a 
Creative Commons Attribution-NonCommercial 4.0 International License
.