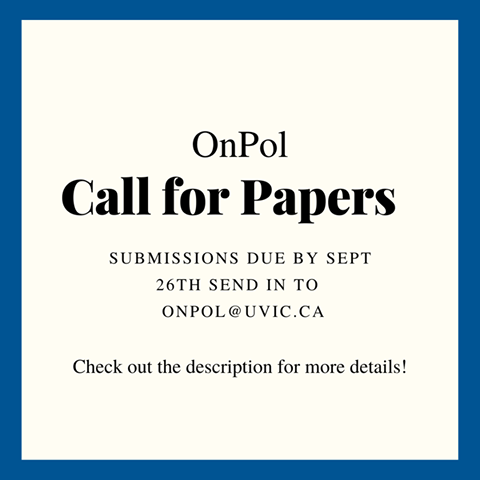 Call for Papers:
It's that time of the year again! If you're looking to get your words (and thoughts) published in the first issue of Vol. 14, now is your chance! Submission deadline is September 26th.
If you're a current UVic student or a recent graduate (Class of 2020), you have the opportunity to get your words in print and work with peers, faculty, and mentors to publish in UVic's best (and only) undergrad Political Science journal.
This year, we will be partnering with Canadian International Council (CIC) Victoria. If selected, you will have an opportunity to have your work reviewed by a CIC member. They have agreed to provide their experienced perspective to our journal and we are excited to roll out this pilot project!
REQUIREMENTS:

Submissions must have received at least an A- in a 200-level or higher political science class at UVic and be 1500-4500 words. This paper must not be under consideration or published elsewhere. Please send only one (1) submission to onpol@uvic.ca. More detailed requirements here: https://journals.uvic.ca/index.php/onpolitics/about/submissions.


Submissions must include:
Your paper in Word Doc. format (docx.)

A brief summary (100 words or less) about your paper




In consideration of our commitments to anti-racist action this year: if you feel comfortable, please indicate that you are a member of an equity-seeking group. On Pol receives a high amount of quality submissions every year, and we hope especially to publish and highlight BIPOC undergraduate work whenever possible.
Our editors looking forward to reading your submissions!