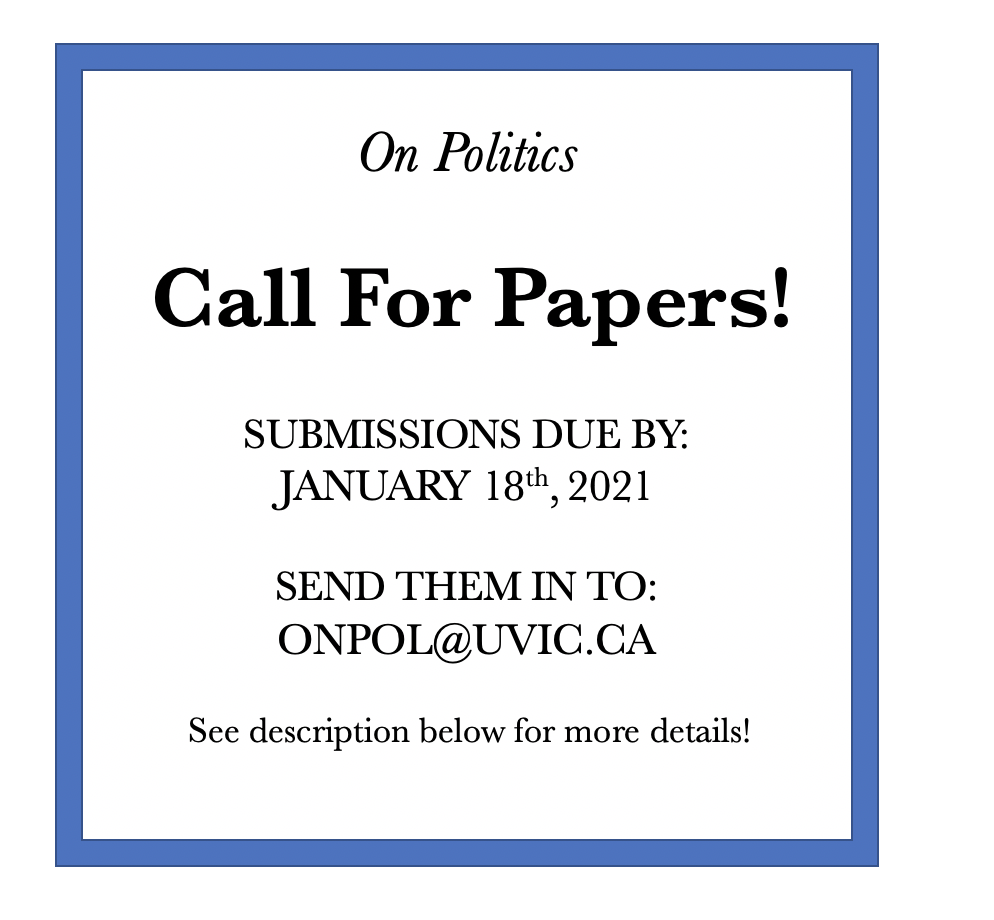 Call for Papers:
Here's to 2021! On Pol is calling for papers for Vol. 14, Issue 2 and now is your chance to have your work featured! Submission deadline is January 18th, 23:59 pm.
If you're a current UVic student or a recent graduate (Class of 2020), you have the opportunity to get your words in print and work with peers, faculty, and mentors to publish in UVic's best (and only) undergrad Political Science journal.
This term we are especially looking to feature work from students not solely majoring in political science! If you wrote a political paper for an adjacent discipline (sociology, Indigenous studies, gender studies etc.) we would love to see your submission.
We are excited to continue our partnership with Canadian International Council (CIC) Victoria. If selected, you may have an opportunity to have your work reviewed by a CIC member, many of whom have government, diplomatic, military, business, and academic backgrounds. They have agreed to provide their experienced perspective to our journal alongside our traditional UVic partners.
Requirements:
Submissions must have received at least an A- in a 200-level or higher class at UVic and be 1500-4500 words. This paper must not be under consideration or published elsewhere. Please send only one (1) submission to onpol@uvic.ca. More detailed requirements here: https://journals.uvic.ca/index.php/onpolitics/about/submissions.
Submissions must include:
Your paper in Word Doc. format (.docx)
A brief summary (100 words or less) about your paper. Think of it as an abstract.
If not a POLI paper: a brief description (100 words or less) as to why your paper would be a good fit
In consideration of our commitments to anti-racist action this year: if you feel comfortable, please indicate if you are a member of an equity-seeking group. We will take this in consideration during our selection process, alongside our commitment to showcasing exemplary undergraduate scholarship. On Pol receives a high number of quality submissions every year, and we hope especially to publish and highlight BIPOC undergraduate work whenever possible.