Fashioning our Own Whare: A Rangahau Journey
Shelly Davies

Thomas Taw Brigitte Te Aweawe-Bevan

Leilana Harris

Kahu Te Kanawa

Shelley Hoani

Te Kapua Hohepa-Watene
Abstract
There once was a girl with no voice. She had a kind heart and carried a kete with her which was old and had a hole in the bottom. She lived with a whānau who she loved but she wasn't really sure if she belonged. Her calling was to help and support the whānau, but she was too whakamā to speak, and felt ashamed of her old, broken kete. Although she loved everyone around her and did what she could to help and support them, without a voice her influence was limited.
One day her whaea told her about a new calling—one that could be done alongside her old one—and asked the girl if she would accept it. She did. She was frustrated with having no voice, and wanted to see if a new calling would help her become more brave. With the new call came a new whānau—not to replace the old one, but to add to it. And the new whānau brought new knowledge and new spaces, and new challenges. The girl with no voice drank up the knowledge, stepped into the new spaces, and took on the new challenges as if her life depended on it. She gathered harakeke and used it to fix her broken kete. She wondered why she hadn't thought to do that before.
With the new knowledge came new kupu, which she rolled around her mouth and tasted. Some were salty and others were sweet, but they all made her hungry for more kupu, and she said so. She didn't even realise that she had spoken. She was so busy in the new spaces, jumping, stretching and running, that she didn't stop to think about the sound her voice made as it echoed in the spaces, getting louder with each utterance. The new challenges were daunting at first, but she loved the hikoi and as she walked she picked things up off the ground: a story here, a waiata there, a whakatauki, a poem... As she took them in her hands
they felt familiar, and she realised they had been in her kete long ago. With gratitude she collected them and put them back into her kete. She uttered karakia of thanks, and wondered aloud to herself who else might have a broken or empty kete. She went to find out. And as she walked, she sang.
Downloads
Download data is not yet available.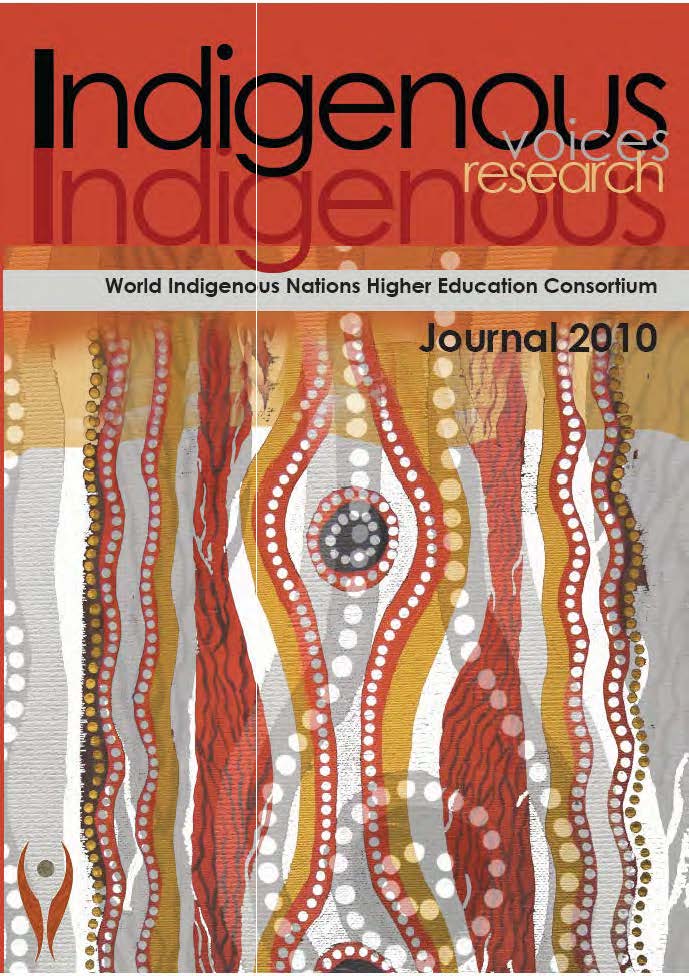 How to Cite
Davies, S., Taw Brigitte Te Aweawe-Bevan, T., Harris, L., Kanawa, K. T., Hoani, S., & Hohepa-Watene, T. K. (1). Fashioning our Own Whare: A Rangahau Journey. WINHEC: International Journal of Indigenous Education Scholarship, (1), 78-90. Retrieved from https://journals.uvic.ca/index.php/winhec/article/view/18632
Copyright to the Papers in the WINHEC Journal reside at all times with the named author/s and if noted their community/family/society.
The author/s assignes to WINHEC a non-exclusive license to publish the documents in this Journal and to publish this document in full on the World Wide Web at www.win-hec.org.au and at journals.uvic.ca/index.pp/winhec.
Authors are able to enter into separate, additional contractual arrangements for the non-exclusive distribution of the journal's published version of the work (e.g., post it to an institutional repository or publish it in a book), with an acknowledgement of its initial publication in this journal.
Further use of this document shall be restricted to personal use and in courses of instruction provided that the article is used in full and this copyright statement is reproduced. Any other usage is prohibited, without the express permission of the authors.