"Moving Forward": Arts and Indigenous Reciprocal Leadership in a Neehithuw (Woodland Cree) School Arts Project
Keywords:
Arts, reciprocal leadership, Indigenous leadership, Indigenous wellbeing, culture, decolonisation
Abstract
This article discusses an arts-based program carried out in a Neehithuw (Woodland Cree) school in northern Saskatchewan. Using historical photographs, students wrote a poem and then performed the poem for various audiences. The teaching/learning relationship based on Neehithuw language concepts and values allowed student leadership to develop so that students were comfortable bringing their lived culture into the curriculum. Thus, the project illustrates the effectiveness of the arts as well as a pedagogical approach that uses Indigenous reciprocal leadership to enact Neehithuw1 concepts and values to achieve educational decolonisation and cultural affirmation.
References
Arden, H., Wall, S., & Horn, G. (2006). Wisdomkeepers: Meetings with Native American spiritual elders (1st Atria books/Beyond Words paperbook ed.). New York: Atria Books/Beyond Words Pub.
Battiste, M. (2000). Maintaining Aboriginal identity, language, and culture in modern society. In M. Battiste (Ed.), Reclaiming Indigenous voice and vision (pp. 192-208). Vancouver, BC: University of British Columbia Press.
Battiste, M. (2002, August). Decolonizing methodologies and research: Engaging Indigenous communities. Paper presented at the World Indigenous Peoples Conference on Education, Morley, AB.
Battiste, M. (2002, October). Indigenous knowledge and pedagogy in First Nations education - a literature review with recommendations. Prepared for the National Working Group on Education and the Minister of Indian Affairs Indian and Northern Affairs Canada (INAC): Ottawa, ON.
Bishop, R. (2008). Te Kotahitanga: Kaupapa Māori in mainstream classrooms. In N. K. Denzin, Y. S. Lincoln & L. T. Smith (Eds.), Handbook of critical and Indigenous methodologies (pp. 439-458). Thousand Oaks, CA: Sage Publications.
Blodgett, A. T., Coholic, D. A., Schinke, R. J., McGannon, K. R., Peltier, D., & Pheasant, C. (2013). Moving beyond words: Exploring the use of an arts-based method in Aboriginal community sport research. Qualitative Research in Sport, Exercise and Health, 5(3), 312-331. doi: 10.1080/2159676X.2013.796490
Brearley, L. (2015). Deep Listening and Leadership: An Indigenous Model of Leadership and Community Development in Australia. In C. Voyageur, L. Brearley & B. Calliou (2nd ed.), Restorying Indigenous leadership: Wise practices in community development (pp. 91-127) Alberta, Canada: Banff Centre Press.
Boal, A. (1979). Theatre of the oppressed. C.A. & M.O. McBride (Trans.), London, UK: Pluto Press.
Brendtro, L. K., Brokenleg, M. & Van Bockern, S. (1998). Reclaiming youth at risk: Our hope for the future. Bloomington, IN: National Educational Service.
Chandler, M. J. & Lalonde, C. E. (2008). Cultural continuity as a moderator of suicide risk among Canada's First Nations. In L. J. Kirmayer & G. G. Valaskakis (Eds.), Healing traditions: The mental health of Aboriginal peoples in Canada (pp. 221-248). Vancouver, BC: University of British Columbia Press.
Fay, B. (1987). Critical social science: Liberation and its limits. Ithaca, NY: Cornell University Press.
Goulet, L. & Goulet, K. (2014). Teaching each other: Nehinuw concepts and Indigenous pedagogies. Vancouver, BC: UBC Press.
Gladstone, J. S. & Pepion, D. D. (2016). Exploring traditional Indigenous leadership concepts: A spiritual foundation for Blackfeet leadership. Leadership, 13(5), 571-589. doi: 10.1177/1742715016638913
Goulet, L., Linds, W., Episkenew, J., & Schmidt, K. (2011). A decolonizing space: Theatre and health with Indigenous youth. Native Studies Review 20(1), pp. 35-61.
Graveline, F. J. (1998). Circle works: Transforming Eurocentric consciousness. Halifax, NS: Fernwood.
Green, R. (1992). Women in American Indian society. New York: Chelsea House Publishers.
Hyslop, M., Linds, W., Goulet, L. & Schmidt, K. (2018). Weechi metuwe mitotan Playing Games of Presence with Indigenous Youth in Saskatchewan, Canada. International Journal of Play 7(1), 41-59. doi: 10.1080/21594937.2018.1437340
Kangas, M. (2010). Creative and playful learning: Learning through game co-creation and games in a playful learning environment. Thinking Skills and Creativity 5(1), 1-15.
Kenny, C. (2012). Liberating leadership Theory. In Living Indigenous Leadership: Native Narratives on Building Strong Communities (p. 258). UBC Press.
Kirkness, V. J., & Barnhardt, R. (1991). First Nations and higher education: The four R's – respect, relevance, reciprocity, responsibility. Journal of American Indian Education, 30(3), 1-15.
Kontos, P. C. & Naglie, G. (2007). Expressions of personhood in Alzheimer's Disease: An evaluation of research-based theatre as a pedagogical tool. Qualitative Health Research, 17(6), 799-811, doi: 10.1177/1049732307302838.
Kovach, M. (2009). Indigenous methodologies: Characteristics, conversations, and contexts. Toronto, ON: University of Toronto.
Marjanovic-Shane, A. (2010). From yes and no to me and you: A playful change in relationships and meanings. In M.C. Connery, V. P. John-Steiner, & A. Majanovic-Shane, Eds., Vygotsky and creativity: A cultural-historical approach to play, meaning making, and the arts (pp. 41-62). New York: Peter Lang Publishing.
Martel, G. A. (2016). Tapahteyimowin: A heuristic study of Indigenous educational leadership. Unpublished doctoral dissertation, University of Saskatchewan, Saskatoon, SK.
Martin, J. & Sugarman, J. (2003). A theory of personhood for psychology. In D. B. Hill & M. J. Kral (Eds.), About psychology: Essays at the crossroads of history, theory, and philosophy (pp. 73-88). Albany, NY: State University of New York Press.
Meyer, M. A. (2008). Indigenous and authentic: Hawaiian epistemology and the triangulation of meaning. In N. K. Denzin, Y. S. Lincoln & L. T. Smith, Eds., Handbook of critical and Indigenous methodologies (pp. 217-232). Thousand Oaks, CA: Sage Publications.
National Indian Brotherhood (NIB). (1972). Indian control of Indian education. Policy paper presented to the Minister of Indian Affairs and Northern Development. Ottawa, ON: National Indian Brotherhood/Assembly of First Nations.
Pinay-Schindler, S. L. (2011). "Echoes of voices from a long time ago": A self-reflexive journey of understanding leadership from a personal and Indigenous perspective. (Master's thesis). University of Regina. Regina, SK.
Pfeifer, D. M. (2005). Leadership in Aotearoa New Zealand: Māori and Pākehā Perceptions of Outstanding Leadership. Massey University, Wellington, New Zealand.
Ranahan, P., Yuen, F., & Linds, W. (2017). Suicide prevention education: Indigenous youths' perspectives on wellness. Journal of Indigenous Wellbeing: Te Mauri-Pimatisiwin.
Rohd, M. (1998). Theatre for community, conflict and dialogue: The hope is vital training manual. Portsmouth, NH: Heinemann.
Sammel, A., Linds, W., & Goulet, L. (2013). Dancing together: A conversation about youth and adult relational authority in the context of education. International Journal of Child, Youth and Family Studies (4)3, 337-356. doi: 10.18357/ijcyfs43201312432
Sinclair, R. (2007). Identity lost and found: Lessons from the sixties scoop. First Peoples Child and Family Review 3 (1), 65-82.
Smith, L. T. (1999). Decolonizing methodologies: Research and Indigenous peoples. New York, NY: Zed Books.
Truth and Reconciliation Commission of Canada. (2015). Honouring the truth, reconciling for the future: Summary of the final report of the Truth and Reconciliation Commission of Canada. Ottawa, ON: Author. Retrieved from: http://www.trc.ca/websites/trcinstitution/index.php?p=890
Ulturgasheva, O., Rasmus, S., Wexler, L., Nystad, K., & Kral, M. (2014). Arctic indigenous youth resilience and vulnerability: Comparative analysis of adolescent experiences across five circumpolar communities. Transcultural Psychiatry, 51, 735-756. doi: 10.1177/1363461514547120
Victor, J., Linds, W., Episkenew, J., Goulet, L., Benjoe, D., Brass, D., Pandey, M., & Schmidt, K. (2016). Kiskenimisowin (self-knowledge): Co-researching wellbeing with Canadian First Nations youth through participatory visual methods. International Journal of Indigenous Health, 11(1), 262-278. doi: 10.18357/ijih111201616020
Voyageur, C., Calliou, B. & Brearley, L. (Eds.). (2015). Restorying Indigenous leadership: Wise practices in community development (2nd ed.). Banff, AB: Banff Centre Press
Weenie, A. (2009). Toward an understanding of the ecology of Indigenous education. First Nations perspectives, (2)1, 57-70.
Yazzie, E. (2013). Using historic photographs to teach about Navajo history and culture. In J. Reyhner, J. Martin, L. Lockard, & W. S. Gilbert, Eds., Honoring our children: Cuturally appropriate approaches for teaching indigenous students (pp. 139-154). Flagstaff, AZ: Northern Arizona University.
Young, A. E. (2006). Elders' teachings on Indigenous leadership : Leadership is a gift. Masters thesis, University of British Columbia. doi:10.14288/1.0064638
Yuen, F., Linds, W., Goulet, L., Episkenew, J., Ritenburg, H., & Schmidt, K. (2013). "You might as well call it Planet of the Sioux": Indigenous youth, imagination, and decolonisation. Pimatisiwin: A Journal of Aboriginal and Indigenous Community Health, 11(2), 269–281.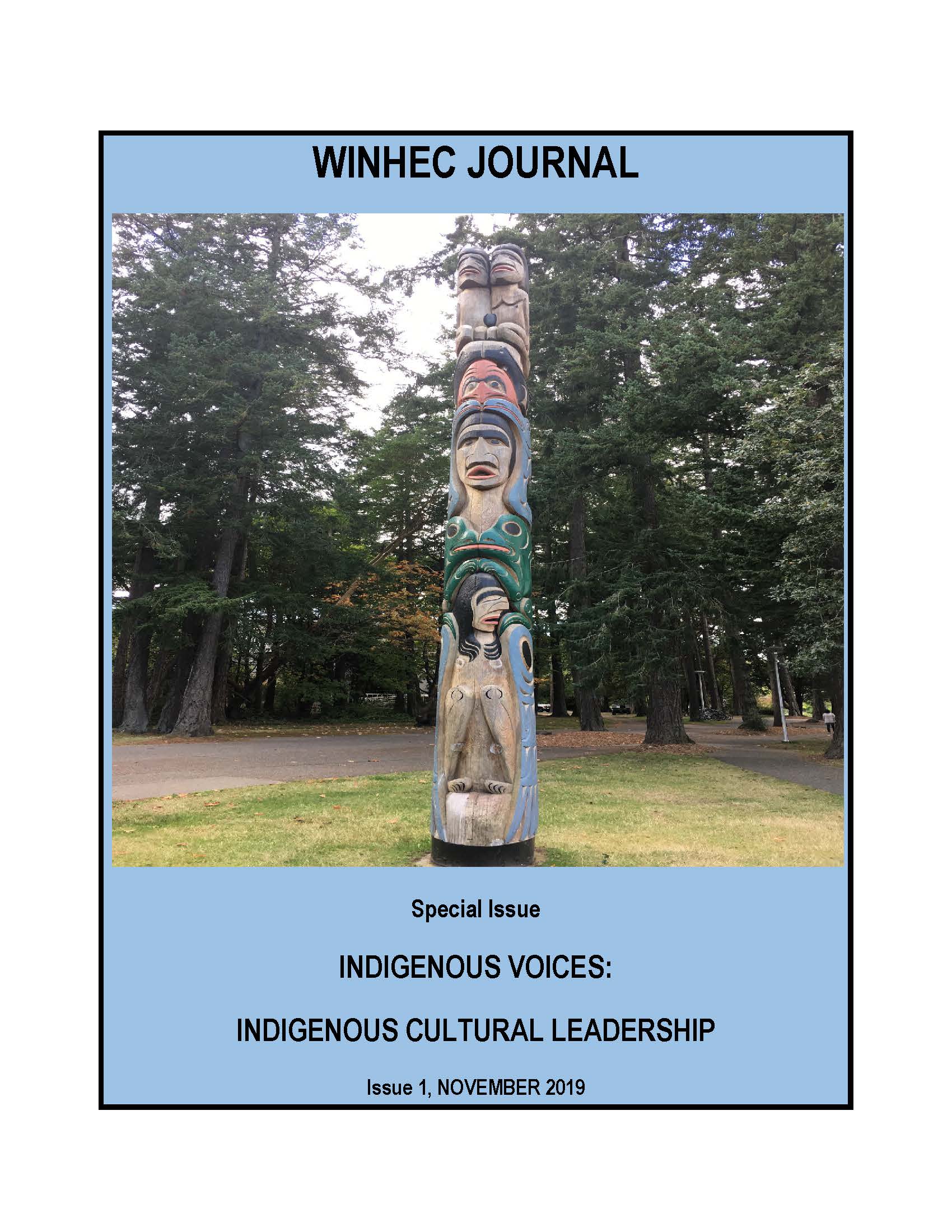 Copyright to the Papers in the WINHEC Journal reside at all times with the named author/s and if noted their community/family/society.
The author/s assignes to WINHEC a non-exclusive license to publish the documents in this Journal and to publish this document in full on the World Wide Web at www.win-hec.org.au and at journals.uvic.ca/index.pp/winhec.
Authors are able to enter into separate, additional contractual arrangements for the non-exclusive distribution of the journal's published version of the work (e.g., post it to an institutional repository or publish it in a book), with an acknowledgement of its initial publication in this journal.
Further use of this document shall be restricted to personal use and in courses of instruction provided that the article is used in full and this copyright statement is reproduced. Any other usage is prohibited, without the express permission of the authors.