Dharug Custodial Leadership: Uncovering Country in the City
Jo Anne Rey

Macquarie University, Australia
Keywords:
Dharug, Indigenous, Australian Aboriginal, lifeworkings, Goanna, leadership
Abstract
When Dharug Ngurra (Country), as an interrelated web of presences, places and practices, involves interweaving diversities that currently form cosmopolitan Sydney, Australia, the question of Dharug custodial leadership becomes pertinent. What does custodial Indigenous leadership in the city look like and does it have a place in today's educational institutions? This paper will engage those questions sourced from recent research centred on the traditional custodians of the majority of Sydney: the Dharug. Through yarning times, seven Dharug 'sistas' share their sense of belonging, caring and connection to the presences, places and practices of Country. Their custodial cultural leadership, undertaken in diverse educational contexts today, demonstrates leadership that enhances futures which belong, care and connect to Ngurra based in Dharug knowledges and practices embedded for millennia. While Dharug Ngurra may present as Sydney, it is argued that localised caring-for-Country practices strengthen localised belonging and enhance human and other-than-human wellbeing through custodial leadership. Recognising Goanna's (Australia English word four our monitor lizard) place in this weaving brings out the more-than-human in us all.
Downloads
Download data is not yet available.
References
AIATSIS (2019). AUSTLANG: Australian Institute of Aboriginal and Torres Strait Islander Studies. Canberra, ACT.
Arabena, K. (2015). Becoming Indigenous to the Universe: Reflections on living systems, indigeneity and citizenship. North Melbourne, Vic.: Australian Scholarly Publishing.
Barad, K. (2010). Quantum entanglements and hauntological relations of inheritance: Dis/continuities, spacetime enfoldings, and justice-to-come. Derrida Today, 3(2), 240-268. doi: 10.3366/drt.2010.0206.
Country, B., Wright, S., Suchet-Pearson, S., Lloyd, K., Burarrwanga L. K., Ganambarr, R., Ganambarr-Stubbs, M., Ganambarr, B., & Maymuru, D. (2016). Co-becoming Bawaka: Towards a relational understanding of place/space. Progress in Human Geography, 40(4), 455-475.
Bessarab, D., & Ng'Andu. B. (2010). Yarning about yarning as a legitimate method in Indigenous research. International Journal of Critical Indigenous Studies, 3(1), 37-50. Retrieved from http://www.isrn.qut.edu.au/pdf/ijcis/v3n1_2010/Final_Bessarab_Bridget_IJCIS.pdf
Bhabha, H. (1990). The third space. In J. Rutherford (Eds.), Identity: Community, culture, difference (pp. 207-221). London: Lawrence & Wishart.
Bignall, S., Hemming, S., & Rigney, D. (2016). Three ecosophies for the Anthropocene: Environmental governance, continental posthumanism and Indigenous expressivism. Deleuze Studies 10(4), 455-478. doi: 10.3366/dls.2016.0239.
Burke, C., Yarramundi Kids. In Yarramundi Kids: Strong, Smart and Deadly. Sydney: NITV, Special Broadcasting Service.
Mitchell, A. (2016, September 14). Lifework Part 1. Creatures Collective. Retrieved from https://worldlyir.wordpress.com/2016/09/
Mitchell, A. (2017, April 9). Lifework Part II. Worldly. Retrieved from https://worldlyir.wordpress.com/2017/04/09/lifework-part-ii/
Murphy, S. (2017). Zombie University: Thinking under control. London: Repeater.
Plumwood, V. (1993). Feminism and the mastery of nature. London: Routledge.
Rey, J. (2019). Country tracking voices: Dharug women's perspectives on presences, places and practices (Doctoral Dissertation). Faculty of Education, Macquarie University.
Simpson, J. (2019). The State of Australia's Indigenous languages and how we can speak them more often. The Conversation. Retrieved from https://theconversation.com/the-state-of-australias-indigenous-languages-and-how-we-can-help-people-speak-them-more-often-109662
Stutheit, W. (1981). Historical development and theoretical issues relative to the utilization of puppetry as a medium for instruction (Doctoral Dissertation). Faculty of Education, University of Nebraska.
Suchet-Pearson, S., Wright, S., Lloyd, K., Burarrwanga, L., Ganambarr, R., Ganambarr-Stubbs, M., Ganambarr, B., Maymuru, D., & Sweeney, J. (2016). Co-becoming Time/s: Time/s-as-Telling-as-Time/s Bawaka Country. In J. Thorpe, S. Rutherford, & L. Anders (Eds.), Methodological Challenges in Nature-Culture and Environmental History Research (New York: Routledge).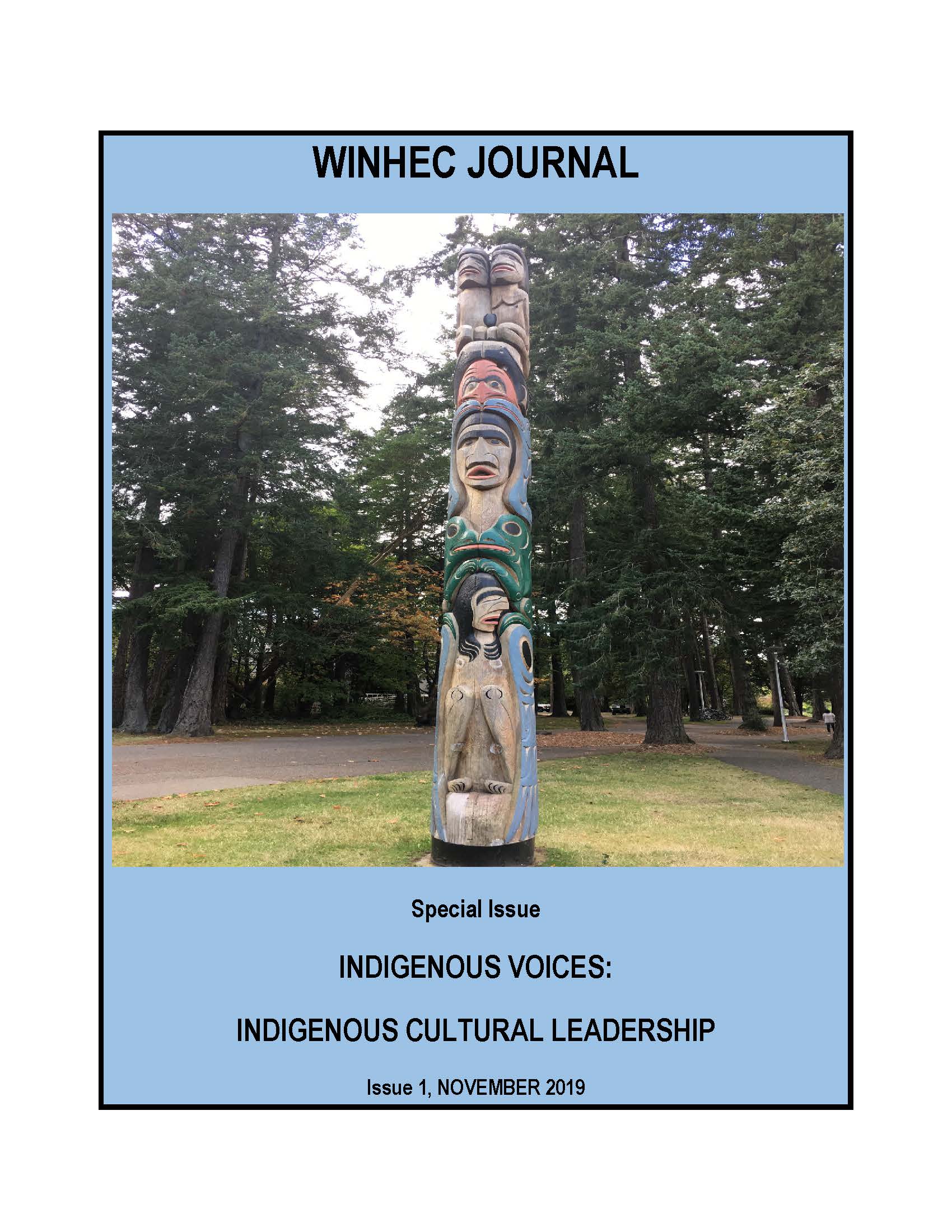 How to Cite
Rey, J. A. (2019). Dharug Custodial Leadership: Uncovering Country in the City. WINHEC: International Journal of Indigenous Education Scholarship, (1), 56-66. Retrieved from https://journals.uvic.ca/index.php/winhec/article/view/18941
Copyright (c) 2019 Jo Anne Rey
This work is licensed under a Creative Commons Attribution 4.0 International License.
Copyright to the Papers in the WINHEC Journal reside at all times with the named author/s and if noted their community/family/society.
The author/s assignes to WINHEC a non-exclusive license to publish the documents in this Journal and to publish this document in full on the World Wide Web at www.win-hec.org.au and at journals.uvic.ca/index.pp/winhec.
Authors are able to enter into separate, additional contractual arrangements for the non-exclusive distribution of the journal's published version of the work (e.g., post it to an institutional repository or publish it in a book), with an acknowledgement of its initial publication in this journal.
Further use of this document shall be restricted to personal use and in courses of instruction provided that the article is used in full and this copyright statement is reproduced. Any other usage is prohibited, without the express permission of the authors.